Awesome Black Bean Brownies
May 10, 2010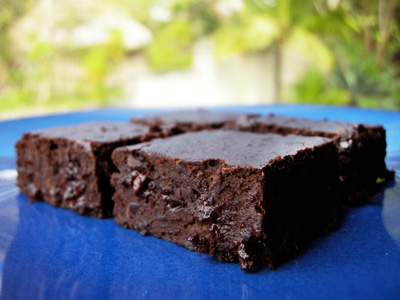 I've been playing around with black bean brownies for a while now, because they're so delicious and nutritious. Think about it, a dark chocolaty brownie made with protein and fiber-rich black beans that's also lower in fat and sugar than a traditional brownie but still has all the chocolate and flavor. Breakfast! They seem to make a lot of sense here in Mexico, the land of black beans and chocolate, so it's not surprising that my amigos here love them.
I've made 4 different variations of black bean brownies in the last few months, and all of them were super-yummy, but my most recent batch was awesome. I nailed the ingredient ratios, making a dark fudgy complex brownie that plays off of 5 different kinds of beans: black beans, cacao, carob, coffee, vanilla. I also used just enough natural sugars, just enough flavorful fat, just enough dark chocolate, and just enough booze to make these decadent and beautiful tasting without going over-board and making a sugar-coma inducing empty calorie-packed brownie. So as rich as these are, they're rich *and* healthy: full of fiber, protein, natural sugars, antioxidants, and love!
There is one unusual ingredient in these that may be hard to find, and that is carob syrup. I managed to score some in a little Asian import shop in the Zona Libre (the "Free Zone" between Mexico and Belize). Carob syrup is naturally sweet and delicious, great stuff, and you can probably find it in Middle Eastern grocery stores. But if you don't have it, you can still make these brownies and they'll be delicious with or without carob.
Awesome Black Bean Brownies
(aka 5-Bean Brownies)
Puree and blend together:
2 c cooked black beans
2 large eggs (or egg substitute)
*1/4 c carob syrup
1/4 c agave nectar or honey
1/4 c Kahlua liqueur (or brewed coffee)
2 tsp vanilla
1/3 c coconut oil or unsalted butter (melted)
Sift together, then blend into the wet ingredients:
1/2 c cocoa (preferably not Dutch cocoa)
2 Tbsp tapioca starch (or corn starch)
1 tsp cinnamon
1/4 - 1/2 tsp salt (use 1/4 tsp if your beans are salty or using salted butter, otherwise use 1/2 tsp)
Mix in:
1/3 - 1/2 c chopped dark chocolate
*If you can't find carob syrup, substitute 1/4 c carob syrup for: 2 Tbsp honey or agave + 2 Tbsp water + 3 Tbsp carob powder
*If you don't like carob, you can substitute 1/4 c carob syrup for: 1/4 c honey or agave + 2 Tbsp cocoa powder
Sugar-free: use brewed coffee instead of Kahlua. Substitute the chocolate for unsweetened carob chips (or sugar-free chocolate).
Egg-free or vegan: I'm pretty sure an egg substitute for 2 eggs would do the trick - if anyone tries please let us all know in the comments. See comment #18. Thanks Jen!
Grease and dust a smallish pan - I use a 10" x 7.5" stainless steel pan greased with coconut oil and dusted with icing sugar mixed with a bit of cinnamon (cocoa or carob works too). Bake in a pre-heated oven at 350 till set - about 20 min. Allow to cool to room temperature then cut into squares. Store in a sealed container in the fridge - they'll firm up a bit - I really like these cold out of the fridge.